Jogging Strollers Recalled by B.O.B. Trailers Due to Strangulation Hazard
Recall date:February 23, 2011
Product Category:Strollers
The U.S. Consumer Product Safety Commission and Health Canada in cooperation with B.O.B.® single and double strollers , is announcing the voluntary recall of the following consumer product.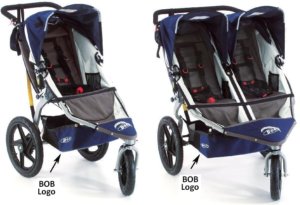 A drawstring on the stroller can get wrapped around a child's neck, posing a strangulation hazard.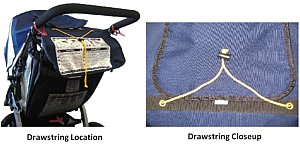 The firm has received one report of an 11-month-old girl who got entangled at the neck by the stroller's drawstring. The child was freed by her mother.
Description
This recall involves the products listed below:
This recall involves the following 11 models of B.O.B.® single and double strollers. The name "B.O.B" appears on the cargo basket under the stroller and on the front of the stroller. All of the recalled strollers have a yellow/orange drawstring at the rear of the canopy which is used to gather loose fabric when the canopy is pulled back. Strollers have the serial number either stamped in the frame or on a white label located on the stroller's rear right leg.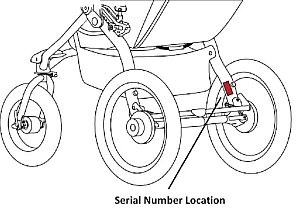 Sport Utility Stroller-12362 - 35107 AA00001 – AA025490
Sport Utility Stroller D'Lux-12362 – 35107 AB000001 – AB007940
Ironman®-800000 – 803700 AC000001- AC027923
Sport Utility Duallie-002001 - 008068 AD000001 – AD011252
Ironman® Duallie-AE000001 – AE008909
Revolution-AF000001 – AF189112
Revolution 12"-AK000001 – AK024149
Stroller Strides®-AG000001 – AG011163
Revolution Duallie-AH000001 – AH072921
Revolution Duallie 12"-AL000001 – AL012657
Stroller Strides® Duallie-AM000001 – AM003229
There were sold at REI, buy buy Baby and other stores nationwide and on the Web at Babiesrus.com, Target.com and Amazon.com between April 2002 and February 2011 for between $300 and $600. The product was manufactured in Taiwan and China.
What can you do and whom to contact
Consumers should immediately stop using the recalled strollers and remove the drawstring. If using a separately purchased Weather Shield or Sun Shield accessory with the recalled stroller, contact B.O.B. Trailers for a free canopy retrofit kit.
For additional information, or to order a canopy retrofit kit, contact B.O.B. Trailers at (855) 242-2245 between 8:30 a.m. and 5 p.m. MT Monday through Friday, or visit the firm's website at www.bobcanopy.com
Click here to see the official recall
Return from Jogging Strollers Recalled by B.O.B. Trailers to Baby Recalls
---
---