Homemade Baby Shower Gift Ideas

Are you looking for special gift for the upcoming baby shower?
Here are baby shower gift ideas that parents to be would love to have.
---
Nursery Wall Arts
Here is an idea that every new mom would love.
We are currently working on wall art for the nursery and will be adding new designs soon.
Our styles range from vintage to modern with emphasis on bold and basic shapes. Some of the items will be offered in a choice of colors to fit the nursery color scheme or your personal taste.
Below are our first designs, they are about 8" high by 10" wide, you are welcome to use them freely, all you have to do is to click on the photo to download, print onto quality white cardstock, cut out and pop into a picture frame.
---
All Printable are Free for Personal Use
We spend a lot of time designing and creating the PDF file of our baby shower printables. Our designs are unique and come in several variations of details and colors. Please use it free of charge for personal use.
If you like our designs and choose to use them, all we ask is that you like our page on Facebook, recommend our site on G+, follow us on Pinterest or sign up for our free newsletter.
---
"Twinkle Twinkle Little Star" and "Rock a By Baby",  sweet  lullabies converted into art that will help you get your baby to sleep.
Click On The Photo To Download
---
Baby Washcloths Gift Idea

Baby washcloths make a practical gift for the new baby.
You can make a beautiful and colorful gift from washcloths that will make a great impression on mom to be.
Here is our suggestion for the gift which can be used as a centerpiece as well.
Rolled soft colored washcloths decorated with metallic gold paper rings and ribbons displayed around a glass bowl against a turquoise ground. Shredded paper and scented decorative soaps are added for a luxurious look. For gift, wrap with a clear cellophane and tie with a ribbon.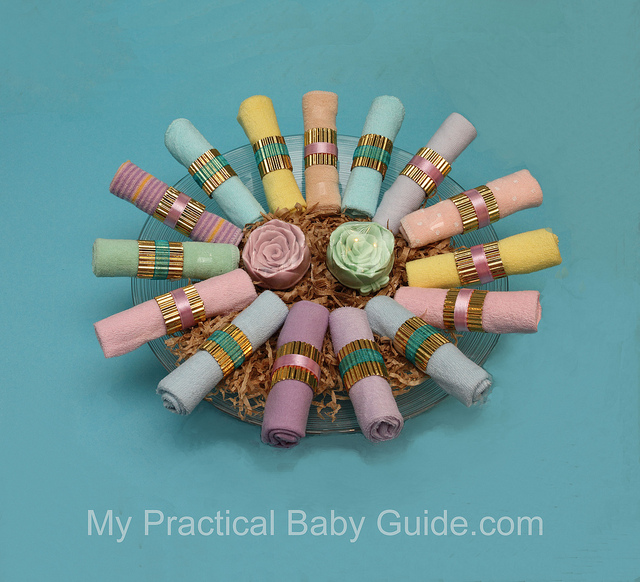 To upgrade this gift see our suggestion below. A stripe of corrugated paper is placed around the base, this will look lovely, displayed on the table.
These washcloths and soaps make a lovely gift as well for the mom to be, so please see our suggestion for the gift box. Scroll down the page to see our suggestion.
Scroll down the page to see another gift wrapping suggestion.
If you would like to make this simple yet inexpensive gift please follow our tutorial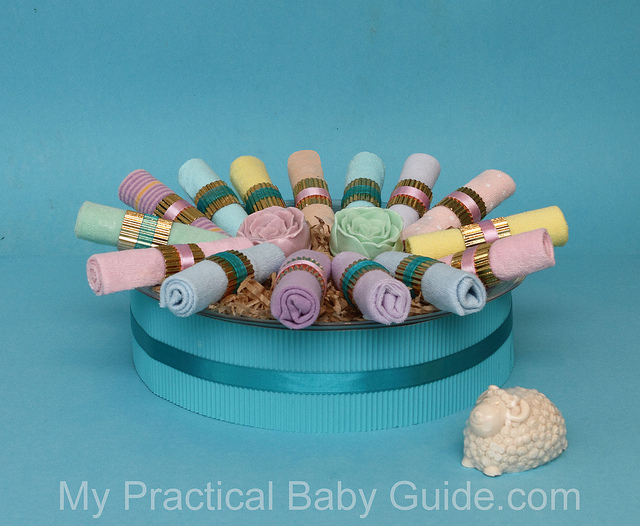 This is a simple and inexpensive way to wrap the Baby Washcloths.  Insert the rolled up washcloths into the paper rings, add ribbons and arrange in several layers in a nice box. An addition of quality scented soaps will upgrade the gift. Tie a lovely silk ribbon on the exterior of the box to match the ones inside.
Hey Don't Leave yet!
This Site is also for New Moms 
Please Share it with them
Thank you!
---
You May Also Like
---
---
---
---