DIY

Centerpieces
We have created a line of centerpieces suitable to many kinds of parties including the very popular baby shower.
Our designs are effective yet simple to create by anyone who is interested in a DO IT YOURSELF project and take very little time to build and assemble.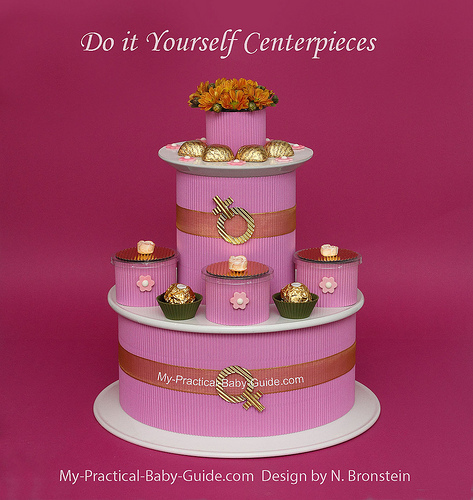 The basic materials that we use are ordinary white plates that are available in any home and an inexpensive colored wavy/corrugated paper which together with the other decorations creates the striking effect of our designs.
All the decorations that we use, like ribbons, flowers, candies etc are inexpensive as well some of which can be found in the home so before you buy, just look around, most likely that you will find things that you can use.
In general, you can follow our designs or create your own interpretation by using lovely items that you own that can contribute to the centerpiece, like colored glasses for instance, colored candles or any pretty small decoration that you like.
Our suggestion is that you follow our color scheme because it is so important. When adding the other items try to pay attention to details like the correct sizes and the right balance of colors.
Here you will find ideas for inexpensive centerpieces like timeless traditional baby shower centerpieces, gender reveal centerpieces, flower centerpieces, candle centerpieces , Christmas centerpieces,wishing trees and candy centerpieces.
This is just the start, we are currently working on new ideas which include several popular themed baby shower centerpieces, and on a detailed tutorial for each of our designs so, please come and visit us again.
We will be glad if you share our ideas with others through Facebook, Pinterest, Twitter and other social media.
---
You May Also Like
---
---
---
---