Atico International USA Recalls Holiday Rattle Baby Slippers Due to Choking Hazard; Sold Exclusively at Walgreens
March 10, 2011
The U.S. Consumer Product Safety Commission in cooperation with Atico International USA Inc., of Fort Lauderdale, Fla. have recalled about 57,000 Holiday rattle baby slippers .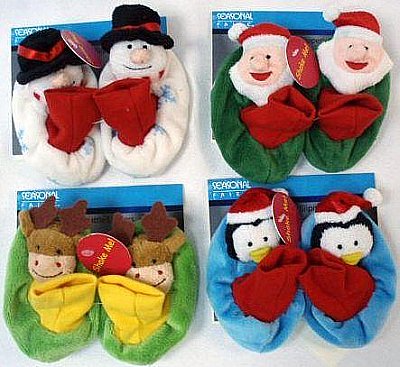 The internal stuffing and rattle inside the slippers decorative figures can be pulled out, posing a choking hazard to young children.
Atico received one report of a 7-month old baby that was found beginning to turn blue with the slippers' stuffing in its' mouth. The baby's father removed the stuffing. Two additional reports of babies wearing the slippers who pulled on the rattle/stuffing and the stuffing came out were also reported. No injuries reported.
Description
This recall involves the products listed below:
The recalled slippers are decorated with stuffed fabric figures including snowmen, Santa, reindeer, and penguins, and have decorative rattles inside the slippers that sound like bells when shaken. Item number 999526 is printed on the back of the cardboard header card packaging. "Find Your Joy" is printed on the front of the slippers packaging. The Holiday rattle baby slippers were sold at Walgreen stores nationwide from October 2010 through January 2011 for about $5. They were manufactured in China.
What can you do and whom to contact
Consumers should immediately stop using the slippers and return them to any Walgreen location for a full refund.
For additional information, contact Atico International USA toll-free at (877) 546-4835 between 9 a.m. and 5 p.m. ET, Monday through Friday, or visit the firm's website at www.aticousa.com
Click here to see the official recall
Return from Holiday Rattle Baby Slippers Recalls to Baby Recalls
---
---