DIY Baby Shower Favors

Jordan almonds masquerade as robins' eggs in a delicate nest make a beautiful favor for a bird baby shower. This favor is easy and quick to assemble. A perfect way to present any edible favor. Get the full tutorial step by step. Good Luck and Enjoy!
---
How to Assemble a Bird Nest Favor for a Bird
Baby Shower?

---
Materials

Clear cellophane candy bags
Jordan almonds
1/4" wide Satin Ribbon
Scissors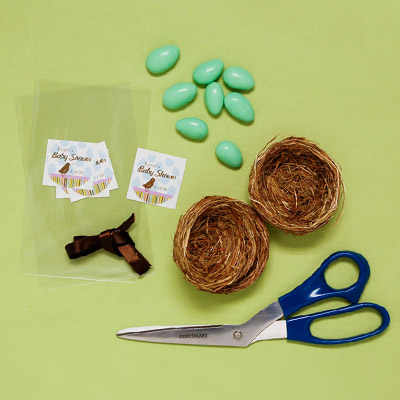 ---
Instructions
Step 1  Fill cello bags with approximately 8-10 Jordan almonds and fold to fit inside nests. Seal with tape on the back if needed and place the candy bag inside the nest.
Step 2  Cut ribbon into 12" lengths.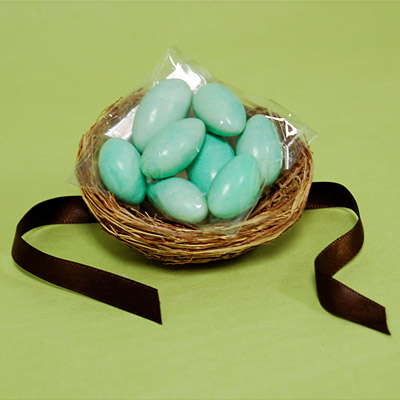 ---
Step 3  Lay ribbon out horizontally and sit the nest on top of the center of the ribbon.
Step 4  Fold one side of the ribbon over the top of the candy bag and fold the other side over to form an "X".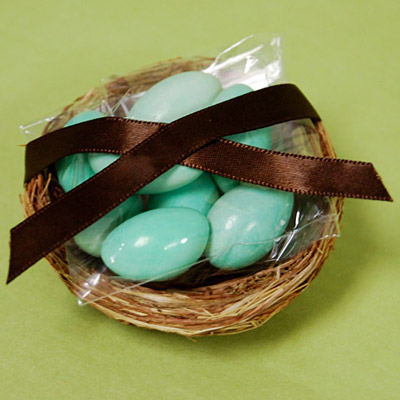 ---
 Step 5  Place a personalized label on top of the "X".
---
and voila

---
Tips
Use these favors to decorate your desert table.
You can pick any color for the Jordan almonds.

Fill the nest with any sweet treat of your choice.

You can adapt this idea to a spring baby shower too.

---
Supplies
Shop these baby shower supplies at Beau-Coup.

---
Return from Bird Nest Baby Shower Favor to Baby Shower Favors to Make

---
You May Also Like
---
---
---
---
---