Tool-Bottle Feedings Log
Use our Bottle Feedings Log and follow your baby's feedings: The time of start, the amount, and the number of diapers changed.
Click the image below to download the pdf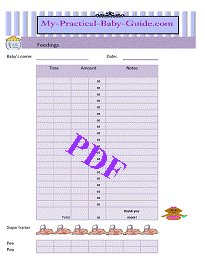 Don't have Adobe Reader? Download it now
In the beginning it is very difficult to follow everything, so using this log will make your life easier.(If you breastfeed, please check out our Breastfeeding Log ).
Return from Bottle Feedings Log to Tools
---
---