Breastfeed confidently with Rooti Tooti
by Ruth Randall (Rooti Tooti)
(Leeds, West Yorkshire, UK)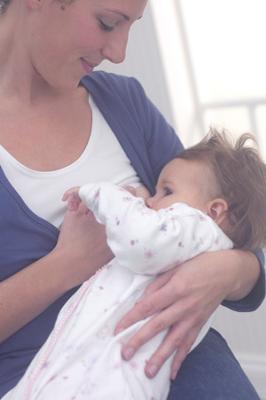 Me feeding Esmé in my Rooti Tooti vest and wrap
Rooti Tooti began when my daughter, Esmé, was born. I had always been determined to Breastfeed and having got the hang of it at home, the next step was to Breastfeed in the outside world!

Breast feeding at home had been fine as I could confidently feed Esmé in her nursery without worrying about showing my breasts or tummy. Feeding out of the house however, was a big worry. How was I going to feed Esmé, get her into position and latch on without showing either my tummy or breast?

Not only was I learning how to feed Esmé, I was also battling with my changed body shape and feeling a little self conscious, so the thought of everything 'hanging out' was not something I relished!

So the natural next step was to find a top to wear that would cover me up…well this is when I met a problem…there really wasn't anything out there. Yes, a few places on the internet sell Breastfeeding tops, but they seemed frumpy and awkward to use.

I didn't want to be embarrassed about, or hide the fact that I was breast feeding, by wearing 'a tent'. So, I decided to brave things and had to cope by wearing t-shirts, a size too big, so they were easy to lift up. This meant, the return to feeling body confident, through wearing my own clothes, couldn't happen, I wanted to look good and feel good….and so the Rooti Tooti Breastfeeding Top was born……

I was then free to wear whatever I wanted to and feed Esmé, confident that I had my Rooti Tooti Breastfeeding Top underneath!

Please feel free to visit Rooti Tooti and have a look at the tops and wraps, we also have top tips from breastfeeding mummies and reviews.

We hope that the Rooti Tooti Breastfeeding Top will revolutionise the way you feed your baby and allow you to feel confident to feed for as long as you choose.