Breastfeeding and Jewelry
by Jessica Sebastian
(Provo, UT)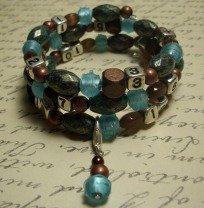 My First Nursing Bracelet
When my daughter Ellie was born, I was so horribly under prepared for the challenges of nursing her that it was truthfully the single worst element of pregnancy, labor, delivery, and early care of her. I cried, I got angry, I complained, I was miserable. I had no prior experience with anyone close to me breastfeeding so all help was from either nurses or the lactation consultant. I had done a lot of research while I was pregnant and thought I was ready for the challenges, but was wrong! I just couldn't seem to "get it." I asked questions, I sought help, and even had a peer counselor. On my second conversation in trying to explain that I was frustrated but wanted to keep trying, she asked me, "What do you think you're doing wrong?" I felt crushed. I had no idea what was happening and I didn't really feel like it was my fault. But I finally found solace in a friend who was going through the same thing and that helped tremendously as we talked.


This was just one of the aspects of the early care of my daughter. There were other complications and between those and finishing school and moving and being away from my husband, I thought I was going to lose my mind! I needed something to make me feel normal again. Keeping track of feeding times on top of everything else was almost impossible. I had heard of nursing bracelets but couldn't find one I really liked and didn't want to pay a lot of money for something that was only so-so. I decided to make my own and this seemingly insignificant choice has made so much difference!
A month before Ellie was born I was attending school full time and working. A month after she was born, I had graduated and left my job to stay home with her; life changed. Making nursing bracelets helped me get back to feeling great and enjoying feeding time with Ellie. I sell my feeding bracelets as close to cost as possible because it is something I love to do and I think everyone should be able to afford to have something that makes the hard times slightly easier. Women and their babies around the country have benefited from my creations and knowing that I have helped them even a little is the best feeling of all!
I hope that from reading my story you can feel like you can carry on, even when it's difficult and find comfort and solace in a friend!
Jessica Sebastian
sebastiandesign.etsy.com