Tool-Breastfeeding Log
Use our breastfeeding log to follow your baby's feedings.
Keep record of the time you start and of the length of time you breastfeed on each side.
Click the image below to download the pdf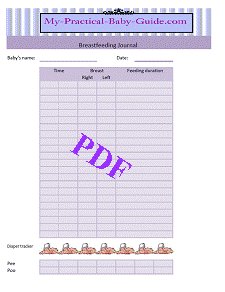 Don't have Adobe Reader? Download it now
Breastfeeding experience was not as ideal as you had imagined after the delivery of your first baby. Many new moms find it so frustrating! As a mom who had breastfed four babies, I would like to encourage you to keep on breastfeeding as it has so many advantages.
Every mom can breastfeed her baby, but while for some it comes naturally, for others it can take some time.
When I gave birth to my first baby, my hubby suggested that I start a breastfeeding log where I could follow the feedings. I kept record of the breastfeeding time, of the breast side and most important of the number of pee or poo diapers I had changed. During the crucial first two weeks after delivery, it helped me stay calm.
Along the way of breastfeeding, you will bump into many problems that can be solved. Here you can find
some tips
so you can have a best start with breastfeeding.
Return from Breastfeeding Log to Tools
---
---