Candle Centerpieces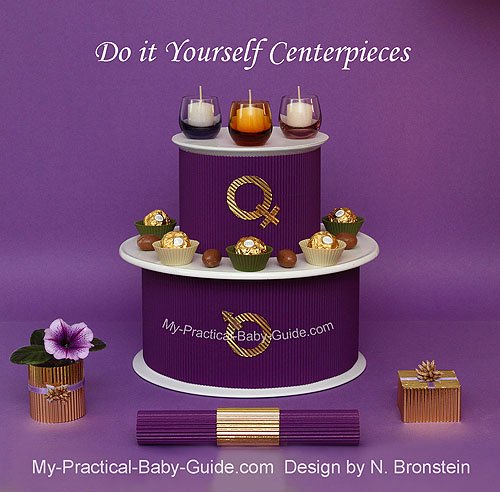 This is a striking centerpiece designed for the gender reveal baby shower in white, Lilac, violet, green and touches of gold. Both gender symbols were used.
Economical, easy and quick to build and assemble.

Materials used: A white footed cake plate, white plates, a matt purple wavy/corrugated paper, a metallic gold wavy/corrugated paper, antique liquor colored glasses, small white candles, olive green silicone cupcake molds, a Petunia flower with Violet leaves, a light purple silk ribbon.

The suggested ground is lilac, this is either for a tablecloth or for a runner that can be placed on an white tablecloth. For the runner you can use either a lilac Canson paper as in the picture or, for a more luxurious look, a piece of Dupioni silk. The Dupioni silks are inexpensive and come in endless gorgeous shades.



Our suggestion for the table setting: If you use a white tablecloth you can use light green plates with light green napkins or white plates with subtle red decorations and red napkins. If your tablecloth is light green, white plates and red napkins will look great.
You can enhance the look of the setting and harmonize it with the centerpiece by adding little bowls covered with the metallic gold wavy/corrugated paper. You can use the bowls to serve salads, sweets or anything that goes with your menu. You can also cut narrow strips from the wavy/corrugated gold paper and create rings to hold the napkins.

In this design we used antique colored liquor glasses as candle holders. It is always a good idea to look around the house for interesting items that can contribute to the design before rushing to buy. The ultimate choice may be waiting for you in your cabinet and it may even be one of a kind.

The Petunia flower was picked from the garden and stayed fresh for more than 24 hours in a glass filled with water. The impact of the single flower is great but you can always create many identical vases simply by wrapping the glasses with the metallic gold paper. Arrange the little bowls around the table.

This centerpiece looks as gorgeous in reality as in the photo.

A detailed tutorial on how to make this centerpiece will be sent upon request. Please do not hesitate to contact us if you would like to get it.
Return from Candle Centerpiece to Great Ideas for Inexpensive Centerpieces

---
---
---
---