DIY Candy Centerpiece Ideas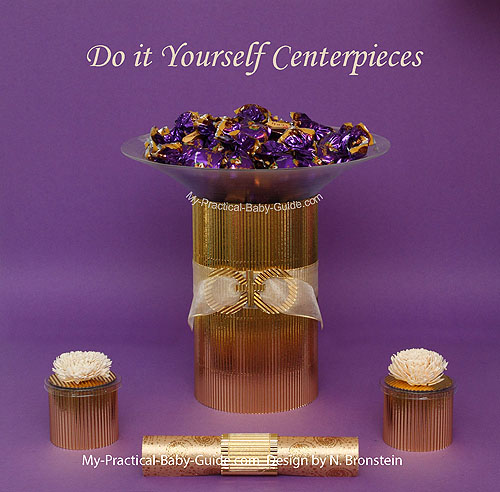 This is a suggestion for a candy centerpiece with matching boxes of favors in gold, purple and cream. Very simple to make.
We have chosen to use it for Twin girls baby shower. The two symbols of the gender were united, forming a cross in the center and used as a buckle for elegant effect.
This centerpiece costs so little. The cylinder vase was made of metallic gold wavy/corrugated paper and so were the round favor boxes. The translucent bowl of candies was rediscovered in our kitchen cabinet after years of non use. The dried flowers were found in a pot pourri bag. The candies can be used both as decoration and as gifts. Let each guest fill up his favor box when the party is over.
We have chosen a very limited color scheme because we wanted the elegant gold to stand out without disturbance.
The translucent ribbon, chosen to match the translucent bowl, creates a very soft look.
The purple and gold candies do not stand out but blend with the purple background.
The two round boxes decorated with a metallic gold wavy/corrugated paper were decorated softly with a neutral cream flowers.
For a stunning presentation of this centerpiece we suggest that you arrange your favors boxes around the vase. These gold boxes will look magnificent as a group. To enhance the effect, use suitable lighting, the gold will shine and the purple background will be reflected.
For a table setting we suggest a lilac tablecloth or a lilac runner over a cream tablecloth. Use cream plates and cream napkins.
No other decorations are needed with this design because of the richness of the gold. However, if you like to add floral decoration, white, purple or lilac flowers with dark green leaves will add interest and complement the setting.
This centerpiece looks as gorgeous in reality as in the photo.
For a tutorial on how to make this centerpiece please follow this link.

Return from Candle Centerpiece to Great Ideas for Inexpensive Centerpieces

---
---
---
---