Celebrity Baby Names
Popularity of Celebrity Baby Names Over the Years
Have you ever thought of naming your baby over a celebrity? A simple search in Google for "Celebrity Baby Names" shows that many people take it as a serious option.
The name that you give your child when he is born is a tag that he will carry for life. Different cultures refer to names in different ways. some, name the new born over a deceased relative in order to commemorate him. Others use a name of a living person as an act of honor while others search for a new name which they believe will fit the baby's personality, usually with an emphasize on the name's meaning. It is very interesting to see how the popularity of a specific name has changed over the years and what was the cause for that change.
Looking at a period of 100 years can help us predict if a name chosen today will stand the test of time and still be popular after a decade.
When people decide to choose a name for their baby over a living celebrity, they do take a risk. The reason is simple, today's celebrity can be tomorrow's criminal. A famous example was O.J Simpson. Before his murder trial in 1994, Simpson was one of the most admirable American football players. Unfortunately, there are many more similar examples. Since celebrities life is influenced a lot by their popularity, once this popularity decreases for various reasons, they try desperately to stay famous, sometimes through acts that lead them to a wrong direction.
We studied some famous American biographies and using the social security names database we will show you some fascinating facts about their names popularity over the years.
Elvis Presley: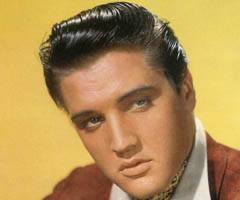 Elvis Aaron Presley (January 8, 1935 – August 16, 1977) was one of the most popular American singers of the 20th century. A cultural icon, he is widely known by the single name Elvis. He is often referred to as the "King of Rock and Roll" or simply "the King".
Now let's take look at the popularity of the name "Elvis" over the years. The graph below shows how popular the name "Elvis" was between 1933 and 2009.
Now, let's try to see if there is a connection between milestones in Elvis's life and the rise in his name's popularity.
Basic milestones in Elvis life:
Elvis was born in 1935.
He began his professional career somewhere in 1956.
His commercial breakout happened between 1956-1958. In November 1956, he made his film debut in Love Me Tender.
Elvis died suddenly at the age of 42 in August 16, 1977. His death was a complete shock to millions of his fans all over the world. For them he was the one and only king of the rock and roll.
Now let's go back at the graph above:
| | | |
| --- | --- | --- |
| | | Until 1956 (during more than 20 years) the popularity of the name "Elvis" was about the same. |
| | | Almost immediately after the King's commercial breakout, we see a big jump in the name popularity that had lasted for 4-5 years (until around 1961). |
| | | The next peak in the name popularity was immediately after his death in 1977. This peak had lasted for almost 3 years. |
| | | Perhaps the most significant fact that can be studied from the above details is that since 1957 and until our days (more than half a century) the popularity of the name "Elvis" was more than twice higher than it was before his commercial breakout with "Love Me Tender". Amazing! |
Elvis is a unique example. His sudden death made him "Young For Ever" and this is one of the reasons for the popularity of his name until our days.

Important update:
According to the social security database of 2010, the name Elvis slipped out of the top 1,000 for the first time since 1954.
"This news about Elvis has me all shook up," said Commissioner Astrue. "But that's all right mama. I'm confident that, next year, America's new parents can't help falling in love with Elvis again and moving it back into the top 1,000."
Bill Clinton & Monica Lewinsky:
Now let's take a look at former President
Bill Clinton
(was a president between 1993-2001) to see if there was a change in his name popularity during and after his presidency.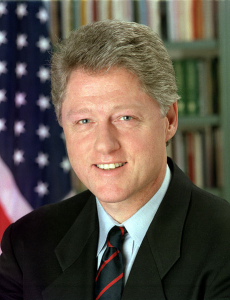 As you can see in the graph below, "Bill" was a very widely used name around 1960. Its popularity dropped gradually until 1990, with a slight increase in 1993.
Between 1993 and until today the name "Bill" popularity was too low to enter the first 1000 popular names list of the American Social Security database. The name "Bill" popularity decreased for some reason and we see that generally the presidency period did not change its popularity at all even though Bill Clinton was considered one of the most charming presidents.
Let's us go back to 1998 when the Monica Lewinsky scandal was in the headlines.
It was called "Monicagate" or "Lewinskygate". For a long period of time every kid in the US knew who Monica was and always in a bad context. Now let's look at the name "Monica" popularity graph below, and we can clearly see how a name that was stable (with high rate) for almost 40 years loses from its popularity even until our days. We predict that it will take many more years until it will go back to the level it was in 1997. This will probably happen when the kids who were very young in those years will have their own children.
Paris Hilton: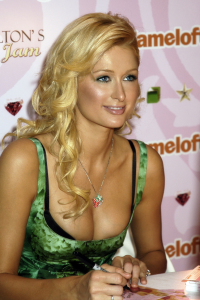 Another interesting example is the famous American socialite, heiress and media personality: Paris Hilton.
Many consider her as the "iconic blonde of the decade" such as Marilyn Monroe and Princess Diana.
Paris was born in 1981 She is a great-granddaughter of Conrad Hilton (founder of Hilton Hotels). Paris is a colorful character with a lot of influence on the young (mainly American) generation. Hilton is best known for her controversial appearance in a pornographic movie called "One night in Paris" filmed around 2001.
The film was released in 2004 causing a media sensation. It was just before Hilton's TV series The Simple Life debuted. "The Simple Life" was a reality television series that was broadcasted from December 2, 2003 to August 5, 2007.
Simple criteria to understand Paris Hilton popularity is to see how many times her exact name appears in Google.
In case of Paris Hilton we can count about 30 million appearances in Google, while "Bill Clinton" for example appears only 10 million. Even the dead king "Elvis Presley" discussed above, appears around 13 million times.
Now let's take a look at the graph below that shows the popularity of the name "Paris" over the years. It is interesting to see that until 1985 the name "Paris" was not rated among the 1000 most popular American names.
It is a bit hard to explain that fact, but what we can clearly see from the graph below is that the popularity of the name "Paris" among American babies jumped significantly in the years that "Simple life" TV show was broadcasted. The highest peak in the name's popularity was in 2004 around the time the pornographic movie was released.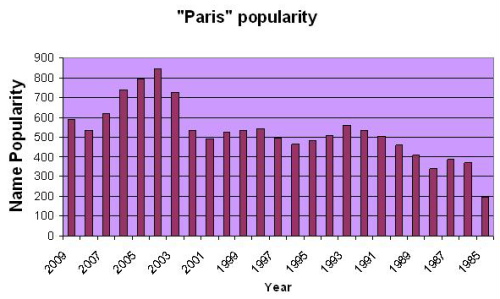 What can we conclude from the above?
Why would parents names their baby over a porno star?
Can we compare Paris Hilton with Monica Lewinsky?
Why Some American admire Paris Hilton and dislike Lewinsky?

It seem that the American people would not forgive Monica Lewinsky for her role in one of the nation's greatest scandals that caused a huge damage to the Presidency. Many find her acts foolish, immoral and shameful.
Paris Hilton, however is a mega celebrity of whom most people would not expect a moral behavior. Others would not consider pornography to be immoral at all.
Conclusions:
We clearly see that if the celebrity's name is a unique one (like Paris, Elvis etc.) it is possible to notice clear changes in the name popularity usually based on significant events in their career.

When studying common names like John, Joseph etc. it is hard to see a clear connection to special events in these persons life.
It would have been interesting to see how events like the murder of John Kennedy or John Lennon would have influenced their name's popularity but, as I said, the names are too common to show a change in popularity.
From the above examples and from some others we studied, we can see that people do not usually consider politicians as celebrities and therefore do not name their kids over them. The most popular celebrities are television and movie stars, singers and sport players.
Return from Celebrity Baby Names to Baby Names
Share with us your unique baby name
Is your baby named over a celebrity?
If so, please share it with us. We would like very much to understand your reasons ...
It would also be great to have your baby picture here.

---
---