DIY Baby Shower Favors

For all of you craft lovers, here is a fun, simple and most of all chic DIY project. Salt and chalk are beautiful when layered into glass jars and topped with a cork.
Your guests will love these baby shower keepsakes, you will have fun making them! 
---
How to Make Chalk and Salt Art Jar Favor for
a Baby Shower?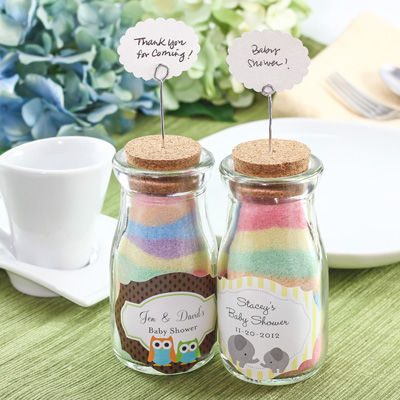 ---
Materials

Colored Chalk 

Salt

Wire

Place Card

Paper (8.5"x11")

Paper Puncher

Wire Cutter
---
Instructions
Step 1  Fill some small bowls with salt
Step 2  Stir the chalk in the salt (a different color in each bowl) until the salt is the color you desire.
Step 3  Use a piece of paper to create a funnel and use it to pour colored salt into the milk favor jar, alternating colors as you fill up the bottle.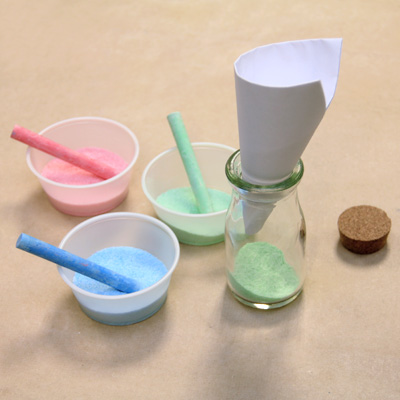 Step 4 Cut wire into 2" length and create a loop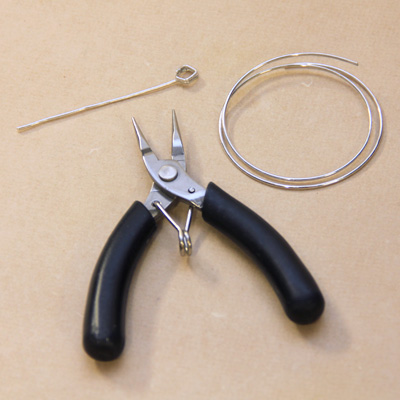 Step 5 Seal jar with cork
Step 6 Place wire loop into the cork and attach a place card or name card to the loop
---
and voila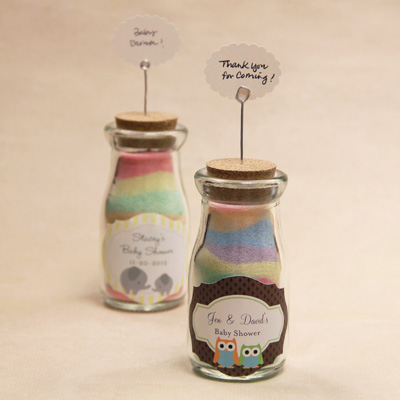 ---
Tips
Decorate your  table with these adorable favors.
This is a great idea if you are looking for kids activities on birthdays.

Measure out the amount of salt you'll need to fill all of your bottles, and divide evenly into the number of bowls you have so you can prepare enough salt for the entire project. This can be done in advance.

You can create the same art by filling these bottles with different kinds of colorful candies.
---
Supplies
Shop these baby shower supplies at Beau-Coup.

---
Return from Chalk and Salt Art Jar Favor to Baby Shower
---
You May Also Like
---
---
---
---
---