My Inspiration Board
Chocolate Blue Polka Dots Baby Shower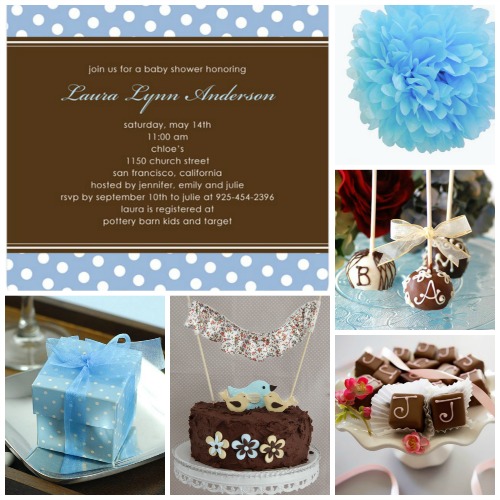 I have come up with the idea of planning a chocolate baby shower.
I am sure your guests would be surprised when they hear that the theme is chocolate because it is not a traditional theme but who doesn't love chocolate?
When I picked the color scheme for the party I chose blue polka dots that went well with the chocolate color. That made it a boy chocolate baby shower. 
I found this simple baby shower invitation that will coordinate with the color scheme of the party.
Start by decorating your party with paper lanterns, blue balloons or blue paper pom poms as shown on my inspiration board.
Even though chocolate is the theme, it is obvious that there should be other dishes on the menu as well. I suggest that you set two tables, a dessert table decorated with the chocolate treats and another table for your favorite dishes.
Make your dessert table as sweet as you can by serving different kinds of chocolates , brownie pops, petit fours, chocolate cupcakes and of course a chocolate cake.
Don't forget the drinks! Set another table with different kinds of chocolate drinks such as hot chocolate and several coffee flavors.
Please note, set another table and serve different kinds of dishes in addition to chocolate.
Keep your guests entertained by playing the candy bar game and other baby shower games that you can find here.
Send your guests home with a little blue polka dots favor box filled with high quality chocolates. Your guests will love it.
Do you plan on having a chocolate baby shower? Please share your ideas with us!!
If you like our inspiration boards, please like our page on Facebook, recommend our site on G+, follow us on Pinterest or sign up for our free newsletter.
---
Credits
I am going to start from top left corner and work my way right and down: 
---
You May Also Like
---
---
---
---