DIY Christmas Centerpiece
This cute centerpiece is perfect for any kind of Christmas party. It is inexpensive and easy to make. Here is the tutorial step by step. Good luck and enjoy!
Merry Christmas!
Scroll down for the tutorial 
How to Make a Snowman Centerpiece for a Christmas Baby Shower?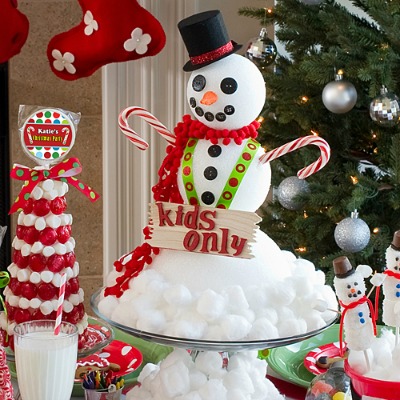 Materials
---
Click on the photos to buy these materials
---
Instructions
Step 1 Cut the bottom off of the largest ball to create a flat bottom surface.
Step 2 Glue three styrofoam balls together from biggest to smallest. 
Step 3 Glue buttons for eyes, nose and chest.
Step 4  Create a carrot by shaping orange felt into a cone. Attach using a small pin or hot glue. 
Step 5  Create hat by cutting two circles out of black felt. Larger for the brim and smaller for the top of the hat. Glue pieces together. 
Step 6   Insert candy canes into styrofoam for arms. 
Step 7  Tie ribbon around the neck for scarf.
Step 8  Add cotton balls to base of snowman.
Tip
You can follow the suggested decorations or use your own imagination  and taste to decorate your snowman.
---
You May Also Like
---
---
---
---