Farm Baby Shower Theme  Ideas
Baby showers can be very fun events to attend but at the same time they take a lot of work to prepare the event and sometimes a lot of planning goes into one of these famous events.
---
Farm Baby Shower Invitations 
First of all you will need to have farm baby shower invitations made up and sent out. You will need to figure out what type of farm animals you want to place on the front of your farm baby shower invitations. There are so many different animals and things on a farm that there can be many different things that you put on the front of the invitations, however, the best thing would be a baby animal because this is a baby shower. 
Once you have made the invitations, you will need to send them out to everyone so that people will know when and where the party will be. Have your guest RSVP so you will know about how many to prepare food and games for.
Below is a free printable invitation designed especially for this kind of party. Just fill in the details and send it to your guests. 
This invitation is part of our one style design, below you will also find food labels, flags, mouth lips, banner cupcake wrappers and cupcake toppers as well.
---
Of course you can always buy a personalized invitation of your taste.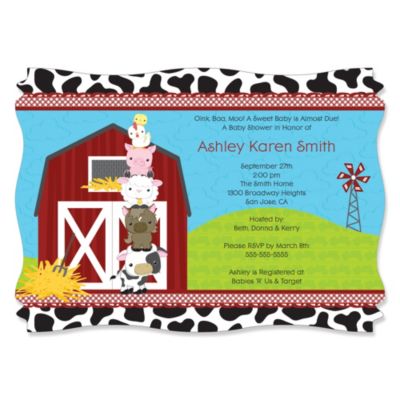 ---
Farm Baby Shower Decorations
Next you will want to either make or buy farm party decorations. If you want to save money you will be able to make a lot of your decorations your self out of paper and boxes. However, if you want to purchase all the supplies go to a party store and purchase the farm party decorations such as farm animals, barns, banners, signs, and much more.  
---
Free Printables Farm Decorations
We created Triangle Farm Baby Shower Rooster banner that you can use freely for your own personal use.
Download and print the PDF file.

Cut out the triangle  (8.6cm*14.4cm).

Fold and tie all the triangles with a string.  
---
Free Printable Table Decorations
We have designed Farm Baby Shower table decorations for your personal use such as cupcake toppers, cupcake wrappers, mouths lips, food labels and flags.
---
 Mini hays and farm party supplies are another way to decorate your table.The decorations below are also matched to the color scheme of our free printables.
---
Farm Baby Shower Games & Activities
After the decorations have been made or bought, you will want to come up with a lot of farm party games for your guest to participate in during the baby shower. One of the games you can do is pin the tale on the donkey, put a diaper on the pig, milk the cow and the list can go on because there are so many different types of farm party games that can be played at the baby shower. 
---
Farm Baby Shower Printable Games
Here are some printable baby shower games made especially for the farm baby shower. You can use them freely.  
---
Baby Shower Gift Bingo
It is about time mother to be is going to open a lot of gifts!
Playing baby shower gift bingo is a great way to keep your guests entertained. Click for the instructions of this bingo game. 
---
Baby Shower The Price is Right
Many people like the game "The Price is Right" thus it may be great for baby shower.
Buy some baby products, ask your guests to bid on how much they think each product costs. 
This file includes a list of 6 baby products, use it freely. 
The guest with the most correct answers wins a prize.
---
Wishes for Baby
Give your guests a few minutes to fill out the cards with their hopes and wishes for the new baby.
Collect the cards and have the grandmother to be read the wishes out loud to the whole group.
---
Farm Baby Shower Food Ideas
Now that the day is planned and the items are bought to decorate with you will need to decide what kind of cake and food you want to have at the baby shower. Finger foods or snacks will be best because everyone will want to play games and open presents instead of sitting down to a proper meal and eating. The cake can be a farm animal, a barn or really anything you want it to be because it is your party so make sure that the cake goes along with the theme of the party you are having.
Click to see these beautiful farm themed party cakes,
cupcakes and cookies
---
Farm Baby Shower Favors
Let guests take home a bit of the fun by way of a farm themed favor.Take your favorite jam, marmalade, or honey jar, and personalize with a custom label and finish with matching fabric and ribbon.
---
Farm Baby Shower Gifts
Farm themed baby gifts such as bibs, blankets, diaper cover and plush toys make a perfect gift at this kind of party.
The last thing to do is to have fun and a lot of it. 
---
Return from Farm Baby Shower to Baby Shower Themes
---
You May Also Like
---
---
---
---