DIY Baby Shower Favors
This marshmallow snowman is a perfect favor for a Christmas Baby Shower and can be used as a decoration as well. It is easy and quick to assemble. Get the full tutorial step by step. Good Luck and Enjoy!
---
How to Make a Marshmallow Snowman Lollipop Favor for a Christmas Baby Shower?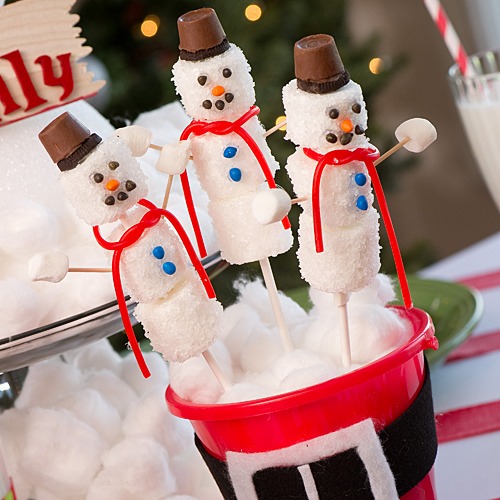 ---
Materials
Marshmallows
Cake Piping Gel
Sugar
Toothpicks
---
Instructions
Step 1  Wet three large marshmallows with water and roll them in sugar and let dry.
Step 2   Insert lollipop stick in to all three marshmallows.
Step 3  Use white cake pipe gel as glue, add cake dots or large sprinkles for eyes, nose, mouth and buttons.  
Step 4  Add a scarf by using thin red licorice strings.
Step 5  Use cake piping gel as glue to attach Rolo to top as a hat.
Step 6  Insert toothpicks into middle marshmallow and add mini marshmallows as arms. 

---
Tips
---
Return from  Marshmallow Snowman Lollipop Favor to Baby Shower Favors to Make

---
You May Also Like
---
---
---
---
---