How to Throw a Monkey Baby Shower?

A monkey baby shower is one of my favorite themes. Being such a cute and playful animal a monkey is just perfect for a joyful, enjoyable and successful baby shower party. To get creative ideas how to plan the party just think of the monkeys in their natural habitat. There are so many motives to chose from like palm trees, bananas, coconuts, grass and endless plants that are found in the jungle. 
Start planning by choosing your color scheme. You can chose traditional jungle colors if you prefer a naturalistic atmosphere. For more interesting and vivid look use any color combination that suits your taste.
---
---
Monkey Themed Invitations

Make your guests get into the party's mood by sending them a monkey themed invitations.
Below is a free printable invitation designed especially for this kind of party. Just fill in the details and send it to your guests.
If you don't have the time to make it yourself , buy a custom made invitations. At tiny prints you will find a large selection of custom monkey themed invitations for a  girl, boy and twins.
Click On The Photo To Download
---
All Printable are Free for Personal Use
We spend a lot of time designing and creating the PDF file of our baby shower printables. Our designs are unique and come in several variations of details and colors. Please use it free of charge for personal use.
If you like our designs and choose to use them, all we ask is that you like our page on Facebook, recommend our site on G+, follow us on Pinterest or sign up for our free newsletter.
---
Jungle Baby Shower Atmosphere and Decorations

Entrance and Indoor Decorations

Make  palm trees out of cardboard and hang monkeys on them.
Hang colorful balloons or choose a themed balloons.
Create a jungle atmosphere by hanging inflatable monkeys from the ceiling or place them around the house.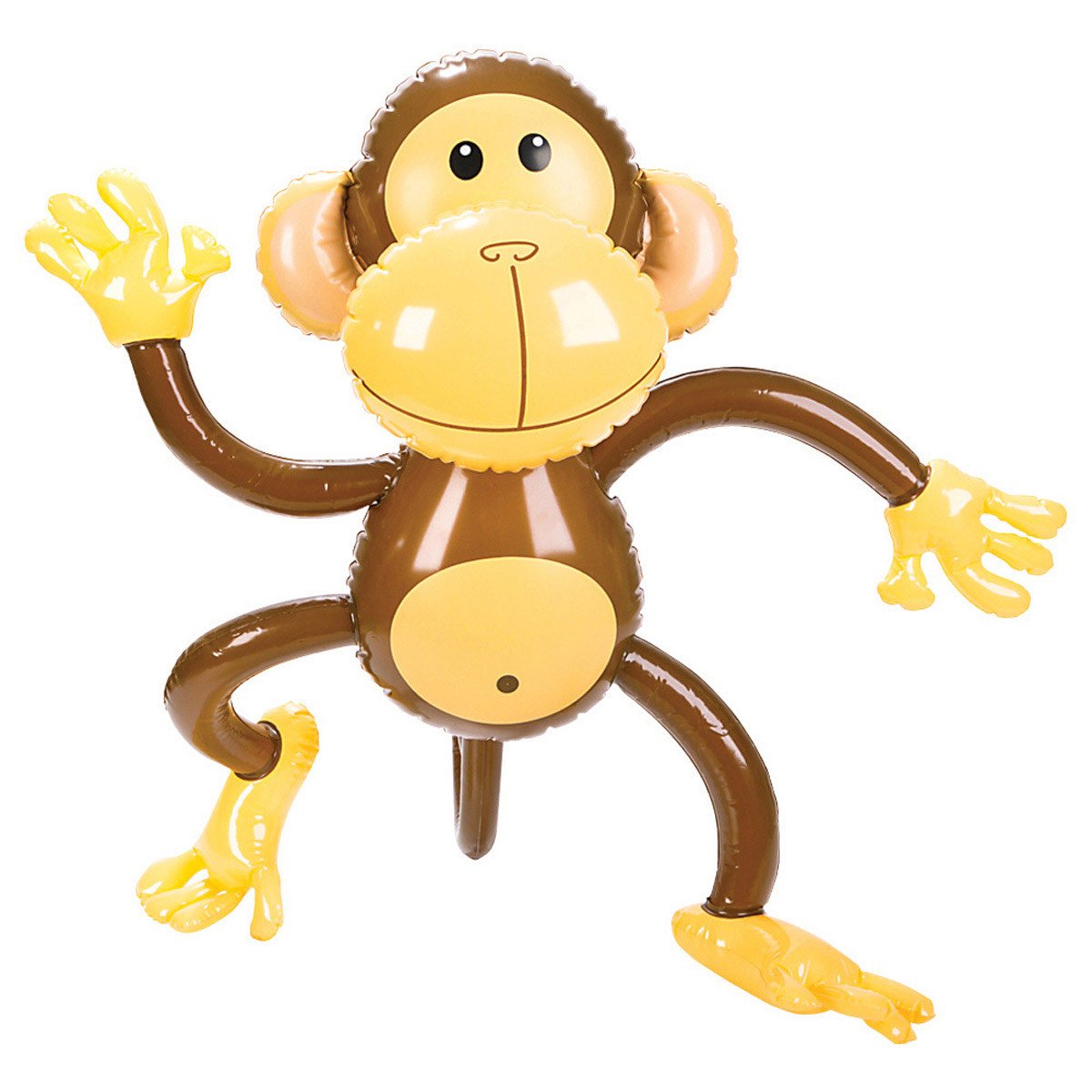 Inflatable Monkey Each
---
Table Decorations
Cover the table with either a solid color or a monkey themed tablecloth. See these monkey theme supplies in the photo.

For centerpiece you can place a monkey themed diaper cake surrounded  by decorative items like monkey toys, gift baskets filled with baby clothing etc. Below is a monkey gift basket that you can buy online instead of making one by yourself.
---
Monkey Cupcake Toppers

Dress up cupcakes with toppers to match your theme. Use our free monkey baby shower printable toppers to decorate your cupcakes.
Click On The Photo To Download
---
Monkeys Custom Bottle Labels

Dress up water bottles with labels to match your party. This adds just a little bit of fun to boring water bottles and helps to tie the entire theme together.
Below is a free monkey baby shower label to decorate your bottles.
Click On The Photo To Download
---
Monkeys Baby Shower Favors

Buy white sheer organza bags and fill them with banana candies, tie with a green or brown  ribbon and attach a personalized  tag. You can also buy  cellophane bag and fill it with favorite monkey's food peanuts.

Decorated monkey cookies make great party favors to send home with guests. If you don't have time to make cookies and decorate them you can always buy some. See the sock monkey cookie in the photo.

---
Monkey's Food
The menu I recommended for the evening (think monkeys  food)  contains monkey bread,banana bread, potato salad, , fruit skewers, and various sodas with colorful straws.
And for the dessert table:A monkey cake, cupcakes, old fashioned taffy, decorated monkey cookies, stick candy, cotton candy and monkey chow such as mix nuts, shredded coconut, raisins, dried banana chips, and chocolate chips.
---
Return from Monkey Baby Shower to Baby Shower Themes

---
You May Also Like
---
---
---
---
---