My Breastfeeding Story - So Far
by Cyndi Richter
(Pennsylvania)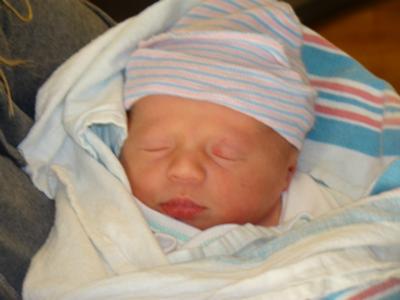 Eli on the Day of His Birth
Before my son was born, I was determined to breastfeed. I took a breastfeeding class offered by my hospital. I bought books and a breast pump. I read lots of information online. I still felt a little unprepared. With all of my new found knowledge, I knew that it would be different once there was an actual baby needing to fed in my arms.
My son, Elijah, was born (2 and a half weeks early) and I was incredibly blessed to have a wonderful hospital that whole heartedly supported my decision to breastfeed. The nurses and staff were wonderful. I was even able to see a lactation consultant before I was sent home and was able to call with any questions that I had.
It was still tough during the first few weeks. Caring for Elijah, healing from the birth, and getting the hang of breastfeeding was a lot to handle. Getting Elijah to sleep was a struggle and he would cry whenever he was laid down. We found out that Elijah has some reflux and therefore could not sleep laying down without discomfort. He had to sleep in a swing or infant seat for the first 10 weeks of his life.
I worried about my milk supply, was he getting enough? Then Elijah started to cry after feedings and was acting unsatisfied. It seemed that the more that I worried, the less milk I made which in turn made me worry more! After some encouragement from my husband and the help of some fenugreek to boost my supply, I got through it. I started to pump in the morning between a feeding when my supply seemed greatest in order to supplement him at night when he was most hungry.
Then we got thrush. It felt like agony to feed him and I started dreading the time when he would want to suck. I had such deep pains in my breast when he was feeding and directly afterward. After a few days and some medications, we both had relief.
When Elijah was about 8 months old, he got in the habit of tapping me on the chest with his open palm during feedings. At first I thought this was cute, but as he grew so did his strength and he was actually leaving red marks on my chest from hitting me. I tried holding his arm down but that made him cry and not nurse. I tried telling him no and he would stop for a minute or so and then start again. I finally found some other moms on Facebook who told me about nursing necklaces. They are necklaces that mothers can wear while breastfeeding to district their babies and give them something to hold onto. I ordered two different styles online. They work wonderfully! Elijah likes to hold the necklace and look at it while breastfeeding and it has totally solved the problem.
I am so glad that I stuck with breastfeeding. I was determined to not supplement him with formula if I could help it and I have succeeded in that goal so far. Even with the struggles, breastfeeding has been one of the most satisfying experiences of motherhood for me. I feel that it has created such a close bond between me and my son. When he is nursing and looks up into my eyes I know that I am doing what is best for him. He has never been sick since he was born, no ear infections, no colds, no doctors visits other than the well check-ups. I attribute this to breastfeeding exclusively as he was born in October and we live where it can be bitterly cold during the winter.
Elijah is now 10 months old and we are still going strong on the breastfeeding. I plan on letting him decide when to stop nursing. I will nurse any future children as well.
To those of you struggling out there, don't hesitate to find help. My experience of other breastfeeding moms is that they will help you! They want to see you succeed. Also, if you stick with it, it does get easier.
My breastfeeding story is still ongoing, but so far I think it is one of the most meaningful experiences of my life and I am so glad to have been able to provide the best food possible for my son.