Nautical Baby Shower DIY Decoration
Have you ever thought what you can do with a Life Saver? On this page you will find out how to dress up your cups for a nautical baby shower using these candies.
This decoration is easy and quick to assemble. Get the full tutorial step by step. Good Luck and Enjoy!
---
How to Dress up your Cups for a Nautical Baby Shower?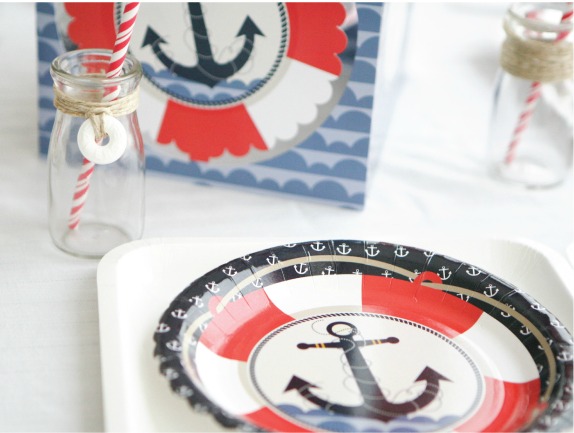 ---
Materials
Glass milk bottle jars

Red stripes straws

Wint-O Green Lifesaver

Twine

Hot glue (optional)

Scissors
---
Instructions
Step 1  Cut a length an 18 - 24 inch length of twine, depending on how many times you want to wrap the neck of the glass milk bottle jar, and fold in half. Thread the folded portion through the Lifesaver.
---
Step 2 Place the loose ends of the twine through  the loop and pull tight.
TIP:
Play with how the Lifesaver and the letters face to get the look you want. Letters up with loop showing in front, letters hidden with loop in back, etc. The placement will give your table a different feel so go ahead and try threading the twine different ways to get it just right.
---
Step 3  Pulled tight, we decided on a letters out Lifesaver with the loop in front for a truly nautical feel.
---
Step 4  Hold the Lifesaver at the front and wrap one end of the twine clockwise, then the other end counter clockwise. Continue wrapping until you  have the desired amount around the neck of your glass milk bottle jar.
---
Step 5  Tie off with a simple knot pulled tight. Add a dab of hot glue if you are concerned about it coming loose. Most twine is rough so you shouldn't have any issues, but if you use a slippery ribbon or string, you may want to add a bit of glue just to be sure.
---
Step 6 Check out your handy work and make sure the knot and letters are facing the way you want them to. Embellish with red striped straws or other nautical party supplies and you are ready to impress all your guests!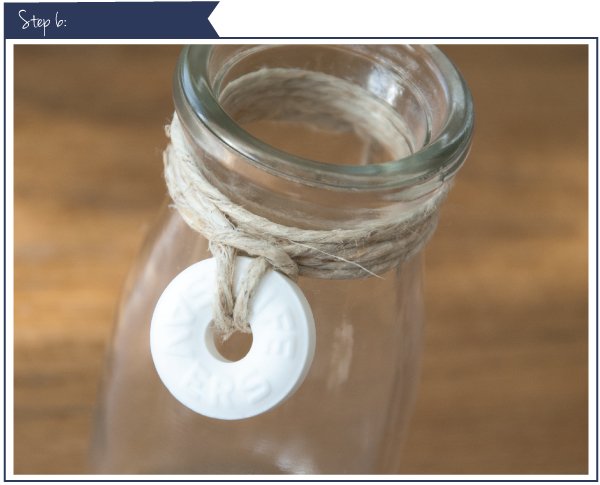 ---
Tips
Set the table and place these cups at the top right corner of every plate. 

You can wrap your napkins using the same method shown in this tutorial.

You can adapt this idea for a sailor baby shower too.



---
Supplies
Shop these baby shower supplies at BigDotofHappiness.

---
Return from Nautical Baby Shower Decoration to Baby Shower Decorations

---
You May Also Like
---
---
---
---
---