How to Throw Noah's Ark  
 Baby Shower?

Noah's Ark is one of the most popular baby shower themes.
On this page I will guide you step by step how to throw this party, please find invitations, decorations, gifts, game ideas and printables, free for your personal use.
---
Noah's Ark Themed Invitations

I found these two Noah's Ark  baby shower invitations that you can buy online, they are well designed and beautiful.
Scroll down to see what I have found for you and if you like it just click on the photos to buy.
---
---
---
---
 Baby Shower Atmosphere and Decorations

Entrance and Indoor Decorations

Start by placing pairs of inflatable animals in front of your house.
Decorate your windows and walls with Noah's Ark foam stickers and banners. 

Rainbow is one of the symbols of this biblical story, thus, creating a rainbow balloons arch will complement your theme and would make a great decoration as well.
Noah's Ark Rainbow Baby Shower Banner
We created horizontal Rainbow Baby Shower banner that you can use freely for your own personal use.
Download and print the PDF file.

Cut out the squares (5"*5").

Tie all the squares with a string.  
Click On The Photo To Download
---
Table Decorations
Choose any solid color of the rainbow for your tablecloth.

Place pairs of stuffed animals on the table or Noah's Ark theme toys.

Another great idea is to make the table look like an ark. Just cover the front of the table with a painted, brown cardboard.

Use our printables to decorate your foods and bottles, these printables are free for your personal use.
---
All Printable are Free for Personal Use
We spend a lot of time designing and creating the PDF file of our baby shower printables. Our designs are unique and come in several variations of details and colors. Please use it free of charge for personal use.
If you like our designs and choose to use them, all we ask is that you like our page on Facebook, recommend our site on G+, follow us on Pinterest or sign up for our free newsletter.
---
Noah's Ark Cupcake Toppers

Dress up cupcakes with toppers to match your theme. Use our free Rainbow baby shower printable toppers to decorate your cupcakes.
Click On The Photo To Download
---
Noah's Ark Rainbow Custom Bottle Labels

Dress up water bottles with labels to match the Noah's Ark Rainbow  theme. This adds just a little bit of fun to boring water bottles and helps to tie the entire theme together.
Use our free Noah's Ark Rainbow  baby shower labels to decorate your bottles.
Click On The Photo To Download
---
Noah's Ark Baby Shower Favors

Animals decorated cookies are perfect for the Noah's Ark theme and make great party favors to send home with guests.  
Give each of your guests a pair of animal cookies, wrap these cookies with cellophane, tie with a ribbon and add a gift tag.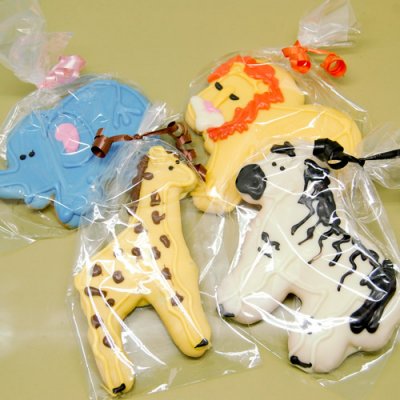 ---
Your baby shower guests will love this cute candle favor. Fashioned in the shape of a scene from the classic biblical tale, this candle comes in its own custom presentation box ready to be given to guests. These candles make great decorative accents to any animal theme.
---
---
Noah's Ark Baby Shower Games
Here are some printable baby shower games made especially for the Noah's Ark baby shower theme. You can use them freely. 
Rainbow Wishes for Baby
We used the rainbow colors for the Wishes for Baby Printable. 
Give your guests a few minutes to fill out the cards with their hopes and wishes for the new baby.
Collect the cards and have the grandmother to be read the wishes out loud to the whole group.
Click On The Photo To Download
---
Noah's Ark Baby Animal Game
Give your guests a list of adult animals, ask your guests to write the name of the baby offspring for each of the adult animals. The guest that gets the highest score will win a prize.
Click On The Photo To Download
---
Noah's Ark Baby Shower Gift Bingo
It is about time mother to be is going to open a lot of gifts!
Playing baby shower gift bingo is a great way to keep your guests entertained. Click for the instructions of this bingo game.
Click On The Photo To Download
---
---
Return from Noah's Ark  Baby Shower to Baby Shower Themes

---
You May Also Like
---
---
---
---