Tips for Babies Photography
Our photography guide is divided into two sections:
| | | |
| --- | --- | --- |
| | | How to keep your paper and digital photos for years. |
| | | Useful tips for improving your photography skills. |
The following page will deal with the first subject.
Preserving your Photos
Most of us, parents, have only paper photographs from our childhood.
Since many of these photos are more than 30 years old we must ensure that they are well preserved and kept if we want our children to enjoy them when they grow up.
It is a known fact that photographs turn yellow over the years.
The damage is caused by the acid that the paper contains. The paper photograph is literally eating itself up from the inside over time. The material will slowly turn yellow, then become brittle and will finally crumble.
Even if the photograph itself does not contain acid, it is usually kept in albums. Many photo albums that contain acid in their paper or adhesives introduce the acidity to the photographs thus accelerating their decay.
PhotoShop Demo:
How will your prints look 40 years from now
Go with the mouse over the picture and you will see how a new paper print may look 40 years form now.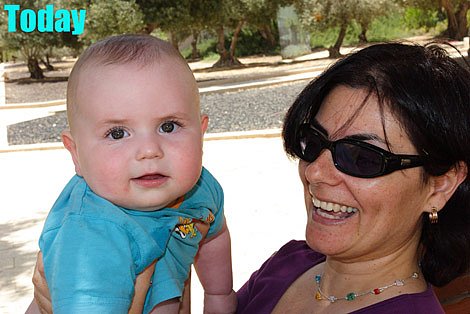 Photos that are not kept in proper storage are most likely to be exposed to damages like moisture, scratches and finger touch.
It is very rare for an old photo that was not properly stored to survive in good shape for half a century.
The example below is a 1905 picture of my grand-grandfather from Hungary. By using some Photoshop restoration we can get the following result.
PhotoShop Demo:
Black & White 1905 photo restoration
Go with the mouse over the original picture to see it after it has been restored.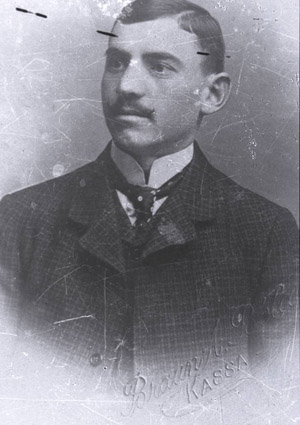 What can we do to improve our old photos?
It is easy to scan and preserve photos by digital media.
Important tip: Many tools like Photoshop, Picasa and more, offer the ability to fix scratches and defects in the damaged photo.
There is no problem to use them, but always make sure the original scan which is the raw material is preserved without any modifications. Refer to it as an historical item. Take for example the 100 years old portrait shown above.
If I run some automatic filters on the picture without preserving the original, it would have become very hard to read the photographer details in the bottom part of the picture which are of great historical importance.
Now lets get to our days
As most photographs are digital nowadays, probably the most important thing to do when storing photographs in the computer is to install a proper backup.
Please read the following unfortunate experience that a friend of mine had.
Danna, who is a mom to three lovely kids had over 4000 family pictures on her home PC disk drive with no backup.
One morning the computer refused to turn on. It was the hard disk which had decided to break up. Danna suddenly understood that she was going to loose her family precious moments of the last four years and she became terrified.
The school parties, birthdays, the amazing family trips, all were going to disappear forever.
After paying $3000 to an expert computer laboratory they succeeded to rescue 70% of the hard disk content.
Still, many priceless moments were lost for good. Her second daughter will never see her pictures as a baby since all that section on the hard disk was completely destroyed.
A 50 cent DVD backup on a monthly basis would have eliminated all that frustration.
Important tip:
Rather than wonder: WILL my hard disk ever fail? Wonder: when will it happen? Make sure you remember that.
How to Backup your Digital Photos
There are basically three main options to backup your photos. We will summarize pros & cons for all of them in the table below.
Just remember that the worst of all is to keep all your photos on your home computer. One day or another you will find yourself in the same situation as Danna was.
The first two methods below (backup using DVD/CD or external hard drive) are the most common ones but unfortunately the least safe.
The third suggested method (using photo sharing web sites) seems today like the best solution for photo backup. For sure you can trust flickr or Pbase backup system more than your 50 cent DVD that is stored on a shelf above your computer.

Services cost today are extremely low. flickr for example offers unlimited size hosting for $24.95 a year. This is really a fair price to pay in order to ensure that your precious memories are well kept.
Uploading pictures to any of those sites is not only easy but convenient as well, as they enable you to share them with your friends.
Note that if you don't want to share your photos, most of the photo web sites offer password protection in order to keep your photos private.
Backup methods

Method
Pros
Cons

burn DVD/CD

| | | |
| --- | --- | --- |
| | | This is a cheap and easy way for backup. It will cost you few cents a month. |
| | | The amount of storage you can hold in one DVD is huge (thousands of pictures) |
| | | No need for special equipment. Every computer today has a DVD burner. |

People are not aware of that but the shelf live of a CD/DVD is short. Sometime up to 5 years.
After that period there is a good chance that the disk will not be readable when you need it.
DVD's are sensitive to scratches. If they are not properly kept they may be easily damaged and become useless.

External hard disk

| | | |
| --- | --- | --- |
| | | External hard disks are very cheap today. Easy to find 1000G disk for less than 150$. |
| | | Backup process is faster. You just copy files through standard USB interface. |
| | | Huge amount of space. One hard disk of 1000G contain about 1400 regular CD's or around 210 DVD's. |

| | | |
| --- | --- | --- |
| | | This is still a hard disk!. It has a limit lifetime and can be damaged by falling to the ground, power supply problems or even water. |
| | | You put all your eggs in one basket. A big amount of data is stored in one device. If you decide to use this method, make sure the external hard disk is well kept in a safe place (like a bank safe). It better not be at your home since in case of fire/flood you are going to loose both your source (computer) and the backup (external hard drive). |

Put your images on the web

| | | |
| --- | --- | --- |
| | | Very cheap method. flickr for example offer unlimited size hosting for 24.95$/Year. |
| | | It is a remote backup, so if your house is damaged by any cause – your data is still safe! |
| | | Your data is reachable from any computer, any place. |

| | | |
| --- | --- | --- |
| | | Privacy. Few people are still afraid to put their pictures on the web even though they can be fully protected. |
Coming soon:
Our Photography Guide (part II)
Return from Tips for Babies Photography to Photographing Babies
---
---