SIDS – Reducing Your Baby's Risk
What is SIDS?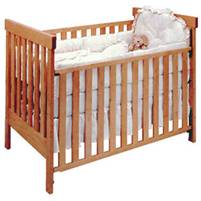 SIDS is the sudden death of an infant under one year of age which remains unexplained after a thorough case investigation, including performance of a complete autopsy, examination of the death scene, and review of the clinical history. (Willinger et al, 1991).
How can you reduce the risk of SIDS?
Although there is no certain explanation of the cause of death, there are things that, according to studies, can be done as well as things that should be avoided to reduce the risk of this phenomenon. Below you will find some recommendations:
Before giving birth – during pregnancy
| | | |
| --- | --- | --- |
| | | Get medical care early in pregnancy, preferably within the first three months. |
| | | Assure good nutrition to reduce the risk of premature birth. . |
| | | Do not smoke or use cocaine or heroin during pregnancy. |
| | | Do not get pregnant during the teenage years, it is not recommended. |
| | | Do an interval of at least one year from the birth of a baby to the next pregnancy. |
After giving birth
| | | |
| --- | --- | --- |
| | | Place babies to sleep on their backs rather than on their tummies. |
| | | Place babies to sleep in a baby bed on a firm flat mattress with nothing in the bed but the baby. Avoid keeping loose or fluffy bedding and items such as stuffed animals in the sleep space. |
| | | Do not overdress the baby while he/she sleeps and keep the room at a temperature that is comfortable for you. |
| | | Keep the air around your baby – at home, in the car, and in all other environments – free of smoke. |
| | | Breast-feed babies whenever possible. |
| | | Avoid exposing the infant to people with respiratory infections and diarrhea. |
| | | Feel free to ask people to wash their hands before holding your baby. |
| | | Offer your baby a pacifier. |
| | | Pay extra attention to a baby who stopped breathing and turned pale, blue, and limp and required resuscitation. |
| | | If you take your baby to day care center or leave him with a babysitter, provide a copy of this list to them. Make sure they follow all recommendations. |
When can I stop worrying about SIDS?
After your baby's first birthday the risk of dying from SIDS drops dramatically and you can stop worrying.
The risk of SIDS peaks in babies between 2-4 months of age and then declines.
It is very rare during the first month of life and at least 90% of SIDS deaths occur in infants younger than 6 months of age.
---
---