Woodland Baby Shower Theme  Ideas
A woodland theme for a baby shower is a great option. It becomes an even better option if your home features wood flooring combined with wood furniture. This makes the process of getting ideas on the things to use for decorations easier. This allows you to transform your place into a true woodland paradise. Of course, the woodland lacks its substance without the animals dwelling on it. Thus, the key to planning a woodland-themed baby shower is woodland creatures and elements.
This is a special theme that suits to whatever is the gender of your baby. Organizing a baby shower with this theme makes your place magical. As a mother, you want to record everything. Having this as a theme will make photos and mementos magical. This is especially if you show it to your baby in the future.
You only have to combine your creativity and imagination to start the planning and preparation of decorations, invitations, foods and favors for your baby shower. There are many online stores to find decoration items to use for the event. There are decorations sets you can purchase that allow you to save more. Just don't forget to add some of your creations and personalized decorations during the baby shower.  
---
---
Woodland Baby Shower Invitations 
First, you need to take care about the invitation. There are a lot of ideas you can use for the invitation's design. But, the best of them are woodland baby animals. If you cannot find invitation cards that feature these designs, you can customize one. You can just print the design on the invitation paper. 
Once you have made the invitations, you will need to send them out to everyone so that people will know when and where the party will be. Have your guest RSVP so you will know about how many to prepare food and games for.
Here is an example of a Woodland Baby Shower Invitation that you can find on our Etsy Shop. 
It is a personalized invitation, comes in two sizes 4"x6" and 5"x7". Perfect if your color scheme is orange, gray and lime green.
Below you will find a coupon for your purchase at our Etsy Shop so come on and take 25% off your order.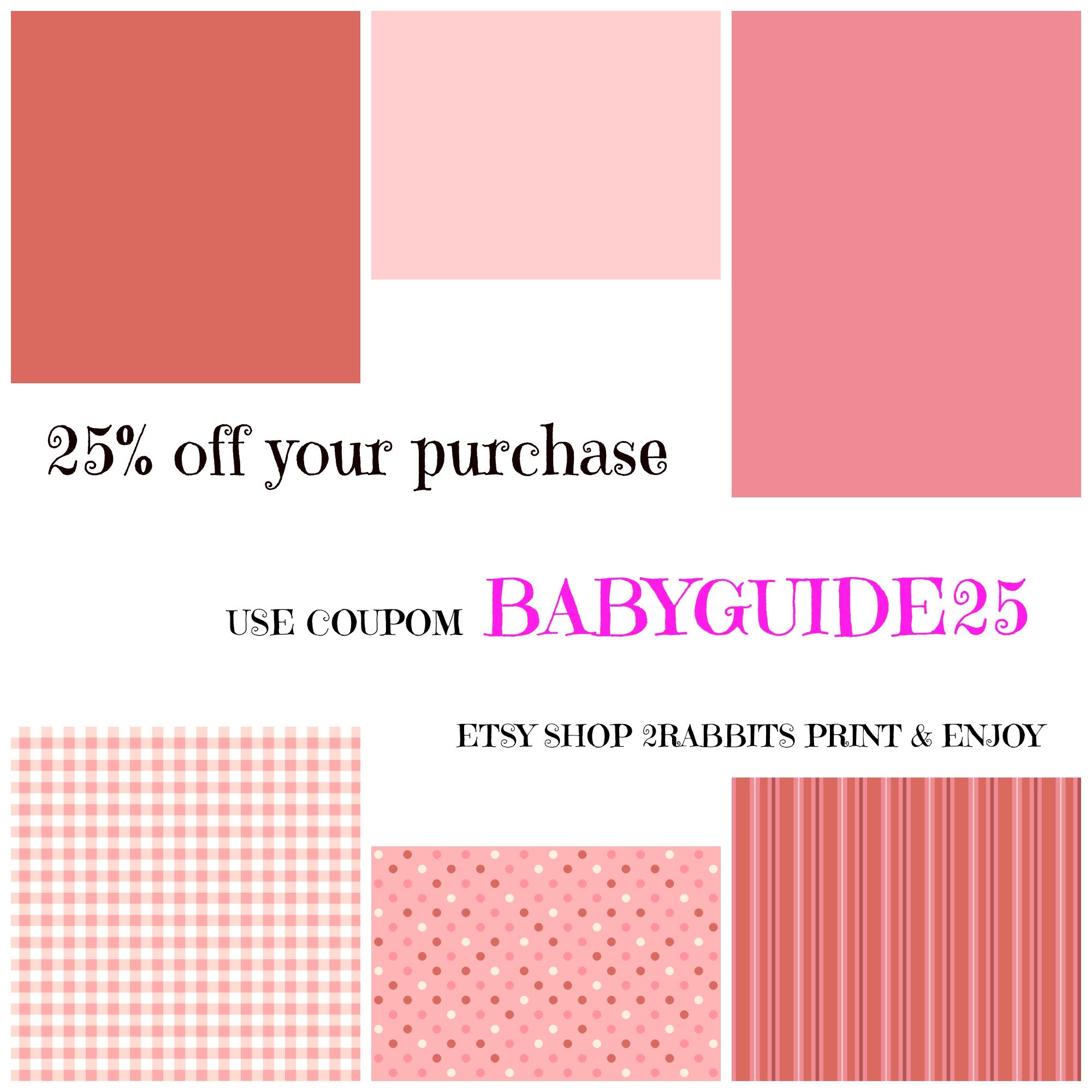 ---
Woodland Baby Shower Decorations
Second, pay attention to decorating part of the baby shower. Flowers and nature elements like twigs and nice artificial plans make your place look like woodland. You can use these materials to recreate the woodland. For instance, you can use twigs in making some nests. Then, find colorful candy eggs you can put on these nests.
Follow our two suggestions for color scheme and decorating supplies.
First Option for Decorating
Gray chevron timeless pattern is so versatile. It is natural, so it works fabulously for a boy shower, girl shower or a gender neutral baby shower. Add a pop of orange and lime green to set the tone and bring the party décor to life.
---
Second Option for Decorating
You can always buy woodland themed baby shower supplies that you can find online. For example here is a desert woodland table decorated with this kind of theme supplies.
Free Printable Woodland Decoration
We created  colorful chevron bunting flags for your personal use. The colors match our invitation.
Download and print the PDF file

Cut out the triangle  5"x7"

Tie all with a string
Click On The Photo To Download
---
---
Woodland Printable Table Decorations
We have designed Baby Shower table decorations for this Woodland Theme.
You can buy these decoration on our Etsy Shop.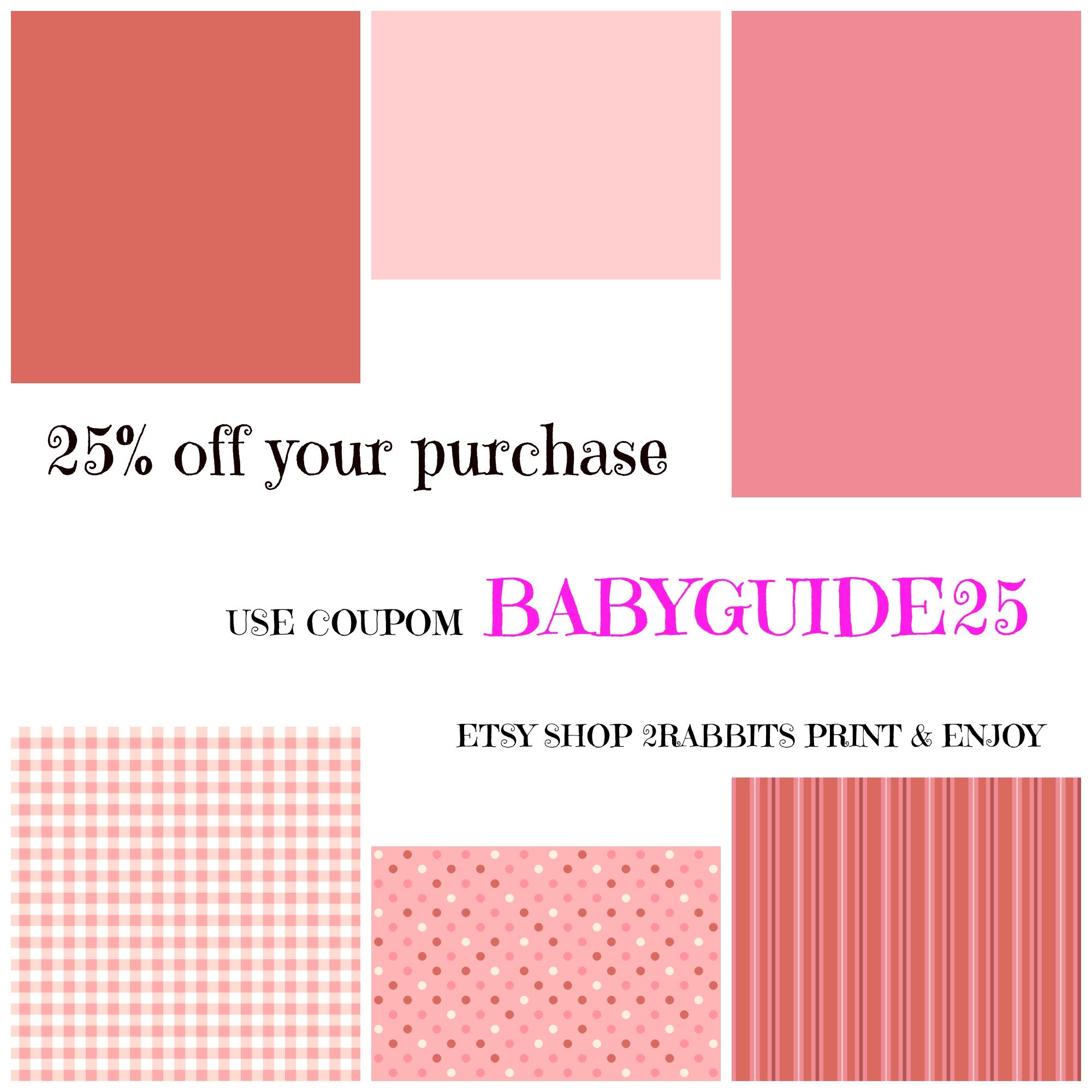 ---
Woodland Baby Shower Games & Activities
For the games and activities, one good option to consider is to make your guests write their most favorite or preferred names for boys and girls. Prepare a nice jar or fish bowl for this activity as a place where the papers with the written names on them. It is a nice activity that everyone can engage apart from the gift opening part of the event.
Making your guests with making their own-designed wooden dolls can be fun and perfect for this event as well. Here, you need to buy cute small wooden dolls at any craft store. Remember the number guests you have. It should be the number of wooden dolls you will have to purchase as well. Don't forget to purchase paints as well as small brushes too! Allow your guests to design their wooden dolls. You can use their creations to decorate your baby's room later.
---
Woodland  Baby Shower Printable Games
Here are some printable baby shower games made especially for the Woodland baby shower theme. You can use them freely.  
---
Baby Shower Gift Bingo
It is about time mother to be is going to open a lot of gifts!
Playing baby shower gift bingo is a great way to keep your guests entertained. Click for the instructions of this bingo game. 
Click On The Photo To Download
---
Baby Shower The Price is Right
Many people like the game "The Price is Right" thus it may be great for baby shower.
Buy some baby products, ask your guests to bid on how much they think each product costs. 
This file includes a list of 6 baby products, use it freely. 
The guest with the most correct answers wins a prize.
Click On The Photo To Download
---
Wishes for Baby
Give your guests a few minutes to fill out the cards with their hopes and wishes for the new baby.
Collect the cards and have the grandmother to be read the wishes out loud to the whole group.
Click On The Photo To Download
---
Woodland Baby Shower Food Ideas
For your woodland-themed baby shower food ideas, you can ask for professional help to prepare woodland-inspired goodies, sweets and desserts for the party. Of course, you should never forget preparing crackers with the shape of forest animals. You need to have a sweets table and make it sure that it is visually appealing.
Some good ideas for foods are owl cookies, a cake topped with deer, bunny-shaped cookies, woodland-inspired sandwich bites, and cupcakes topped with cute deer. Woodland-inspired smokes and gingerbread cookies shaped in animals are perfect additions.
Here is a Whimsical Woodland Cake that was originally made for a birthday party by Mama Bear's Kitchen, we think it will be perfect at your dessert table.
Would you like to have this cake at your party?
Go ahead and click on the photo
---
Woodland Baby Shower Favors
For the baby shower favors, you also have personalized options. If there are readily made favors that suit your theme, then you can definitely use them. If you prefer to personalize these favors, consider making handmade woodland stockings. You can fill them with woodland goodies.
---
Woodland Baby Shower Gifts
Woodland themed baby gifts such as bibs, blankets, diaper cover and plush toys make a perfect gift at this kind of party.
There are more ideas you can use in organizing your woodland-themed baby shower party. And as mentioned, you only need to combine your imagination and creativity. Ask for a professional help, and you are good to go!
---
Return from Woodland Baby Shower to Baby Shower Themes
---
You May Also Like
---
---
---
---